Swedish jewelry designer with the sense for silver and precious stones
With a sense of design, silver and beautiful gem stones, Heléne Wetterskog, the Swedish jewelry designer, has developed a unique jewelry collection under her own brand – Truly Me. A collection designed to express your style … yours Truly Me.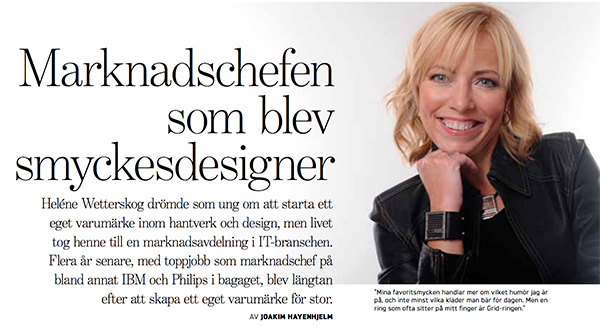 Read the article/interview (in english) – inflight magazine SCAN Magazine (aug 2019)
Read article/interview (in Swedish) – Lifestyle Wellnes Magasin, april 2015
The circle is complete
Heléne is raised in an environment that is characterized by crafts and entrepreneurship. In her father's wood- and metalworking workshop, she was always free to be creative in all the different materials and with a dad who was always at hand to guide the hand craft.
Even as a teenager, there was the dream of building a brand, but the career took a different turn. She decided to put her dream on the shelf … and there it stayed for almost 20 years.
Heléne ended up in the IT industry and developed a long career as Marketing Manager for Philips and IBM, in parallel with studies in design and graphic design.
In 2008 she went from dream to reality and founded Truly Me Jewelry Design, which was then launched in Sweden 2009.
No images found.